Bluecology's student field program aims to inspire and develop future ocean conservation leaders.
The program's purpose is to give students a greater understanding of field science and integrated environmental problem-solving.   High school and college students work side-by-side with field scientists, cultural practitioners, community leaders and other local mentors.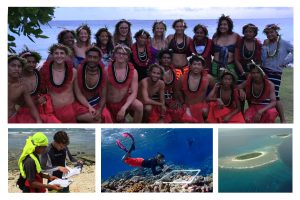 Our goal is for youth to:
Understand the fundamental concepts of marine living systems
Communicate about ocean conservation in a meaningful way
Be able to compare and contrast different approaches to marine conservation.
Bluecology facilitates learning opportunities in Micronesia with collaborator One People One Reef.
In collaboration with One People One Reef in Micronesia and Hawai'i Wildlife Fund in Hawai'i, Bluecology developed both youth programs in 2014 and operated them for six years.  We now serve in an advisory capacity, continuing to work closely with both organizations..
Youth outreach and community service groups can learn more about the Hawai'i and Micronesia program by contacting reiremo@bluecology.org.