Hawai'i Program
Bluecology's partner in Hawai`i is  Hawai`i Wildlife Fund, a non-profit organization dedicated to the conservation of Hawai`i's native wildlife through research, education, and advocacy.  Founded in 1996, HWF actively engages the community in conservation projects.
Outreach and Youth Programs
Bluecology works with Hawai'i Wildlife Fund on youth program development and facilitates learning and field service experiences for visiting youth groups.  Field opportunities include working on a sea turtle conservation project, helping restore coastal habitat through beach clean-ups, and gaining hands-on experience with traditional taro farming practices.  Students are mentored by ocean conservation leaders, researchers, and community leaders.
To learn more, contact:  winning@bluecology.org
Adult Volunteer Opportunities
Maui Hawksbill Sea Turtle Recovery Project
HWF has been conducting research and monitoring the nesting activities of hawksbill sea turtles (Eretmochelys imbricata) since 1996.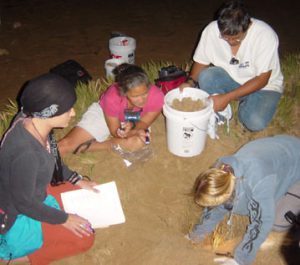 There are fewer than 100 adult female hawksbills known to nest in all of Hawai`i. The species is listed as critically endangered in Hawai`i and worldwide and needs our protection. Through conservation efforts, public awareness, beachfront lighting reductions, fence repairs, dune restoration, beach cleanups, radio and satellite telemetry, coordination of a Turtle Watch program, and determining in-water distribution and abundance, HWF is helping to save hawksbills and their nesting habitats.
During sea turtle nesting season,  HWF's staff and volunteers watch over sea turtle nests, patrol beaches and camp beside the nest to wait for the hatchlings to emerge. We protect the hatchlings' natural process as they emerge and crawl into the sea.
Want to help? Join in one of our three projects: Dawn Patrol, Night Patrol or Nest Watch. Volunteers will work directly with Hawksbill Recovery Project coordinator.
The sea turtle volunteer season is June – October.  To volunteer, please email wild@aloha.net.
Hawai`i Island Marine Debris Removal Project
The mega-gyre of floating plastic estimated to be larger than the state of Texas is pouring a steady stream of marine debris on certain beaches of Hawai`i. At South Point (Ka Lae) of Hawai`i Island (Big Island), HWF has cleaned more than 100 tons of marine debris from these remote beaches during the last four years. This coastline is visited by endangered Hawaiian monk seals and the endangered hawksbill turtle nests here.
HWF organized the first community shoreline cleanups here in 2003 and the effort has been continuous since. Over the past 15 years, HWF has helped to remove more than 200 tons of marine debris from this nine-mile stretch of coastline.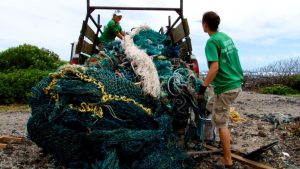 The big problem is that the debris keeps coming ashore at a rate we've estimated to be 15-20 tons per year. Most of the large bundles of net, many weighing well over 1,000 pounds, are removed with special equipment.  Several projects aimed at recycling or repurposing the plastics are underway.  HWF takes most of the other trash, including the thousands bags of small plastic items collected to date, to the county for burial in a landfill.
Volunteers are a critical part of this shoreline effort and they've come from all over – the island, the state, the world – to participate.
To get involved in HWF's marine debris program, please check their calendar of public events at their website:  wildhawaii.org
Internship Program
Hawai`i Wildlife Fund has hosted an international roster of interns from all over the world who spend a week or a month on Maui, getting hands-on experience by working on our various conservation projects.
HWF interns engage in hands-on field work through our conservation, research and education projects that focus on native wildlife protection, marine debris recovery and habitat restoration. HWF's rich internship program allows people of all ages — from high school to retirement age — to learn, to experience, to immerse themselves in island life and culture, and to make positive change in the world. Students may earn credit for high school, college or community service programs.
For more information, email: interns.hwf@gmail.com
Meet HWF's key team members
Hannah Bernard is the Executive Director and co-founder of Hawai'i Wildlife Fund which was founded in 1996.  Bernard is an award-winning marine biologist with 30 years of experience in conducting research, education, and community outreach programs on protected marine life, including 27 years on Maui.
Megan Lamson, HWF's Vice President, has been coordinating the Hawai'i Island Marine Debris Removal Project  for Hawaii Wildlife Fund since 2008. She earned a master's degree at the University of Hawaii in Hilo. Lamson's academic research focused on coral reef fish ecology and community-based marine resource management..
Support HWF
Hawai`i Wildlife Fund (HWF) protects Hawai`i's most vulnerable marine animals, organizes public awareness campaigns, conducts beach clean ups,  trains naturalists and provides interpretation for thousands of island residents and visitors each year.
Help support the work of HWF: www.wildHawaii.org/donate.html