Ulithi Sea Turtle Project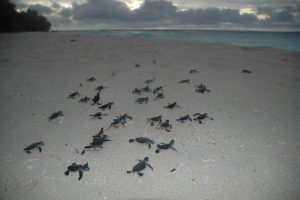 Sea turtles inhabit tropical, subtropical and, to a lesser extent, temperate ocean waters throughout the world. Although sea turtles live most of their lives in the ocean, adult females return to beaches to lay their eggs. They often migrate long distances between feeding grounds and nesting beaches. Seven species have been identified worldwide, including green turtles (Chelonia mydas) the largest of all the hard-shelled sea turtles.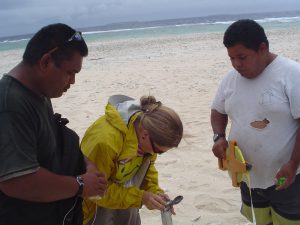 Ulithi Atoll, northeast of Yap Proper, is home to several "Turtle Islands."  The cluster of Gielop and Iar islands may be among the largest green turtle rookeries in Micronesia.  Nesting turtle monitoring fieldwork has been conducted on Gielop Island on an intermittent basis since 1991, and currently project directors John Rulmal Jr. and Jennifer Cruce Horeg of the Ulithi Marine Turtle Project oversee the fieldwork.  The field crew is completely staffed by local men, who were trained in tagging, collecting morphometric data, and taking tissue samples for DNA analysis. Since 2005, nearly 3,000 green turtles nesting on the uninhabited islands of Gielop and Loosiep have been tagged and assessed.
Thanks in part to traditional management systems, the sea turtle population at Ulithi is considered relatively stable, but to obtain an accurate estimation of the stability of the population, annual monitoring of nesting turtles is vital.
Threats
Threats such as marine debris and rising seas are impacting turtles worldwide, even in remote places such as Ulithi Atoll. Other threats to sea turtles include entanglement in fishing gear, marine debris ingestion and entanglement, environmental contamination and loss or degradation of nesting habitat.  In addition, the Ulithi Marine Turtle Project fitted 12 female green turtles  with satellite transmitters and successfully tracked to their foraging grounds in the Philippines, Malaysia, and Japan where interactions with fisheries are not well known.
Community Conservation Approach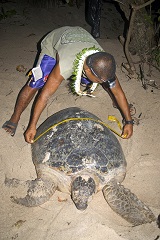 The community at Ulithi Atoll would like to establish a field camp at the main nesting site on Gielop Island. The camp will serve as a base for long-term sea turtle monitoring, for clean up of marine debris to better maintain nesting beaches and as a campsite for local and international youth to learn about sea turtles and island ecology and the marine environment. A rigorous database compiled at this field camp can in turn lead to the enactment of conservation policies at the turtles' feeding grounds and elsewhere.
History of Our Project
The Ulithi Youth Action Project, developed in 2014, is a partnership between Bluecology and One People One Reef, directed by Nicole Crane and John Rulmal Jr. This authentic science- based program pairs groups of young people from the U.S. and Micronesia in hands-on research and cultural immersion designed to address conservation challenges and propose potential solutions.
The first youth team arrived at Ulithi Atoll in 2015. They gathered baseline data on species that serve as indicators of reef health and they participated in community service recovery efforts following a typhoon. From the onset, the youth group traveled to uninhabited Gielop Island to learn about sea turtles and monitoring efforts. Today, the program brings college students, educators and scientists to Ulithi annually to assist community leaders, local students and the One People One Reef team in the development of an action plan for youth leadership.  Learn more.
How You Can Help
In 2019, the community would like to expand their sea turtle monitoring project to cover the entire nesting season and to involve their youth in education and monitoring activities.  To realize a conservation-directed sea turtle field camp, materials are needed to construct local-style huts, compost toilets and a cooking area.  We need about $16,000 to build the camp.
You can help by:
*Making a donation to the Gielop Island Sea Turtle Field Camp Project.
*Signing up to volunteer on the Gielop Island sea turtle nesting beach restoration project.